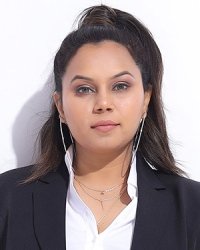 Ms. Sanjana Sharma
(Founder Director)
Sanjana Sharma (Founder)
Sanjana Sharma is the Founder and Managing Director of a film production house based in Rajasthan- Kanchan Cassettes and Series (K-Series). She is a personality of great organizational, management, and creative skills.
Sanjana Sharma is the founder and executive of an annual film festival with the vision to uplift the regional cinema of India- Rajasthan Film Festival, the biggest and one of its kind in Jaipur, Rajasthan. Sanjana, with her team is involved in making world class advertisements whose emotions along with quality speak for the product.
The organization serves various clients across India. In order to provide a one-stop solution to the clients, she is also operating – Acemakers Technology Pvt. Ltd, a digital marketing company. Along with that, having a deep interest in the field of arts and entertainment, she launched a magazine – "Pagdi Ki Shaan" in 2018. With the zeal to contribute more to the entertainment industry, she has started a web-series called Takestep. It involves successful businessmen talking about their life story, strengths, growth and evolution targeted towards the 'youth' of the country.
Sanjana is deeply involved and passionate about Rajasthani cinema, and she strives to improve it. She aims to offer Rajasthani cinema a new direction and encourage both artistic and technical quality in the state. Her devotion, dedication and hard work have gotten her to this point in her career where she has established herself as an example for folks in the entertainment industry, and her natural inventiveness and organizational abilities continue to help her climb the ladder of success in both her professional and personal lives.
Life History
Sanjana Sharma was born on March 28, 1985 in Bikaner district of Rajasthan, India. Sanjana's family in Bikaner consisted of seven people, including her parents and four siblings. Sanjana's childhood had to be difficult because she lost her mother when she was just 13 years old, while her father was ill and the family was financially robbed. It was a traumatizing and at the same time challenging circumstance in which she had to pick between her academics and her three younger siblings, all of whom were under the age of five. During that situation, the eldest brother was out of town and unaware of the situation.
Given the circumstances, she decided to start earning money for her family and considered establishing a business. As a result, at the age of 15, she borrowed money to buy a buffalo and began dairy farming to support her family and siblings with their studies. She became one of the finest milk producers in the area within a year of starting her dairy farming business, and she owned around 20 buffaloes.
As a consequence of conservationist practices followed in Bikaner, she was involved in a child marriage and was married at the age of 16. She had a girl child a year and a half after her marriage and left her spouse owing to unfavorable circumstances. In 2006, she decided to start building an empire of her own and moved to Jaipur, the capital city of Rajasthan. Since her childhood, she was inclined towards the field of arts and entertainment. She started her career as an actor and dancer in films and music videos in 2006 itself. She acted in several movies and national level TV shows.
However, she was involved in a serious car accident and was required to spend six months in bed. She was unable to continue performing, but she is an inspiration to us because she never gave up hope, even in the face of adversity. She tried her hand at a variety of enterprises but did not achieve the level of success she desired which made her explore diverse fields.
In 2008, she established Kanchan Cassettes and Series (K-Series), a music and film production company named after her mother. Sanjana Sharma started to work in the music industry, and her efforts were turning fruitful. But life throws us curve balls, and Sanjana and her crew faced one: the emergence of pen drives and online resources wreaked havoc on CD and DVD producers and dealers. The business was struggling, but Sanjana, being a diligent woman, never lost her faith, and thought of organizing events featuring folk artists, musicians, dancers, poets, stand up comedians, etc. Thanks to her boundless imagination and artistic quality, she came up with the idea of Rajasthan Film Festival owing to the need to recognize Rajasthani artists. When she realized that, despite the fact that Rajasthani Cinema was a thriving sector, the government did little to recognise their contributions, she took it up as her responsibility and came up with this one of its kind festival.
It was in 2013 that she founded Rajasthan Film Festival (RFF) to highlight Rajasthani cinema's artistic and technical excellence. This festival was a huge hit, and it inspired the artists and technicians to work even harder. This show persuaded Rajasthan Film Industry artists and technicians that the world recognises the value of their work and that this is a platform that may propel their careers to new heights. As a result, Sanjana Sharma decided to make the Rajasthan Film Festival an annual event.
Many well-known celebrities and other well-known figures from the film industry, business, and politics took part in RFF 2014, and the show was even more successful. The RFF is currently held every year, and it continues to grow in size and scope. By 2019, the RFF had expanded its reach to include all of India and had invited regional films from all around the country. The RFF has created greater opportunities for artists by connecting all of India's regional cinemas over a single network. Sanjana Sharma succeeded in giving a worldwide platform for artists from Rajasthani film, as well as other Indian regional cinemas, to expose their skills to the rest of the world. Many prominent organizations have joined her in the effort, including Bikaji, Airtel, Oswal Soap Group, Wonder Cement, PC Jewelers, IOCL, JK Masale, Tamil Nadu Tourism, Puducherry Tourism, Telangana Tourism, and many others.
She directed and produced a number of famous music videos and songs. She has also worked in the sector of digital music distribution, receiving positive feedback from a number of high-profile customers. She also took up several government projects. Her enthusiasm and ingenuity have aided her in forging relationships with industry executives, government officials and regional businessmen. It was at that point when she realized that the state lacked the resources and an agency necessary for a business to benefit from advertising. The way advertising was persuaded in the state was unorganized and vague. There were no agencies that could help companies with its demands, provide solutions and acquire strategic traction for them. This inspired her to step in the field of advertising.
She entered the field of advertising, design and development in 2015. Her experience in film production and financing aided her in this new field. The company's advertising experience since then has been great with innovative ideas and emotions occupying the audience's mind space and getting desired results, with clients such as Bikaji, Oswal Soap Group, Engine Mustard Oil, Wonder Cement, Shree Ram Namkeen on the list.
Sanjana Sharma launched a quarterly magazine called "Pagdi ki Shaan" in 2018 as a result of her keen interest in the field of entertainment and politics. She aspires to work in the world of arts and entertainment indefinitely, with constant innovation and inventiveness.

Sanjana with her dream to motivate young India towards the field of business conceptualized and produced the series called Takestep in 2022 which is also her most recent venture. It involves successful businessmen talking about their life story, strengths, growth and evolution. It is not just like any other business talk show, it is produced in a way that motivates the modern youth to take up business and be self-reliant. Considering the fact that most of the young population of the country is involved in the job sector, it is important for youth to take up start-ups and start their own businesses which would eventually help in building a self-reliant country.
Sanjana Sharma possesses exceptional interpersonal and intrapersonal abilities. Her upbeat and cheerful nature also makes her a source of inspiration for her friends and coworkers. Sanjana Sharma is constantly working to realize her dreams and is also a source of motivation for others. Keeping learning as her professional route and upliftment of Rajasthani cinema as her motive, she is always on the go.